More info
Characteristics:
Perfume: Journey to New York, fragrance with flight of bergamot, on a heart of jasmine and a background of cedar, sandalwood and leather.
Dimensions: 100x68x2 mm
Weight : 11 g
Easy to use
Car, dressing room, drawers, handbag, suitcase...
https://www.youtube.com/watch?v=xp5ZIj78GHk
CAUTION : Flammable liquid and vapors. Harmful if swallowed or in contact with skin. May be fatal if swallowed and enters the respiratory tract. May cause skin irritation or allergy, severe eye damage, severe eye irritation. May also be very toxic to aquatic organisms, causing long-term adverse effects.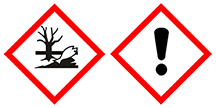 Advice:
- Remove scent card from bag and place in vehicle mirror or location of choice.
Restrictions:
- Do not put the card in direct contact with fabrics and delicate surfaces such as leather, plastic, etc...